Login
Log in if you have an account
Register
Having an account with us will allow you to check out faster in the future, store multiple addresses, view and track your orders in your account, and more.
Create an account
Fall 2018 Round Up
01 Nov 2018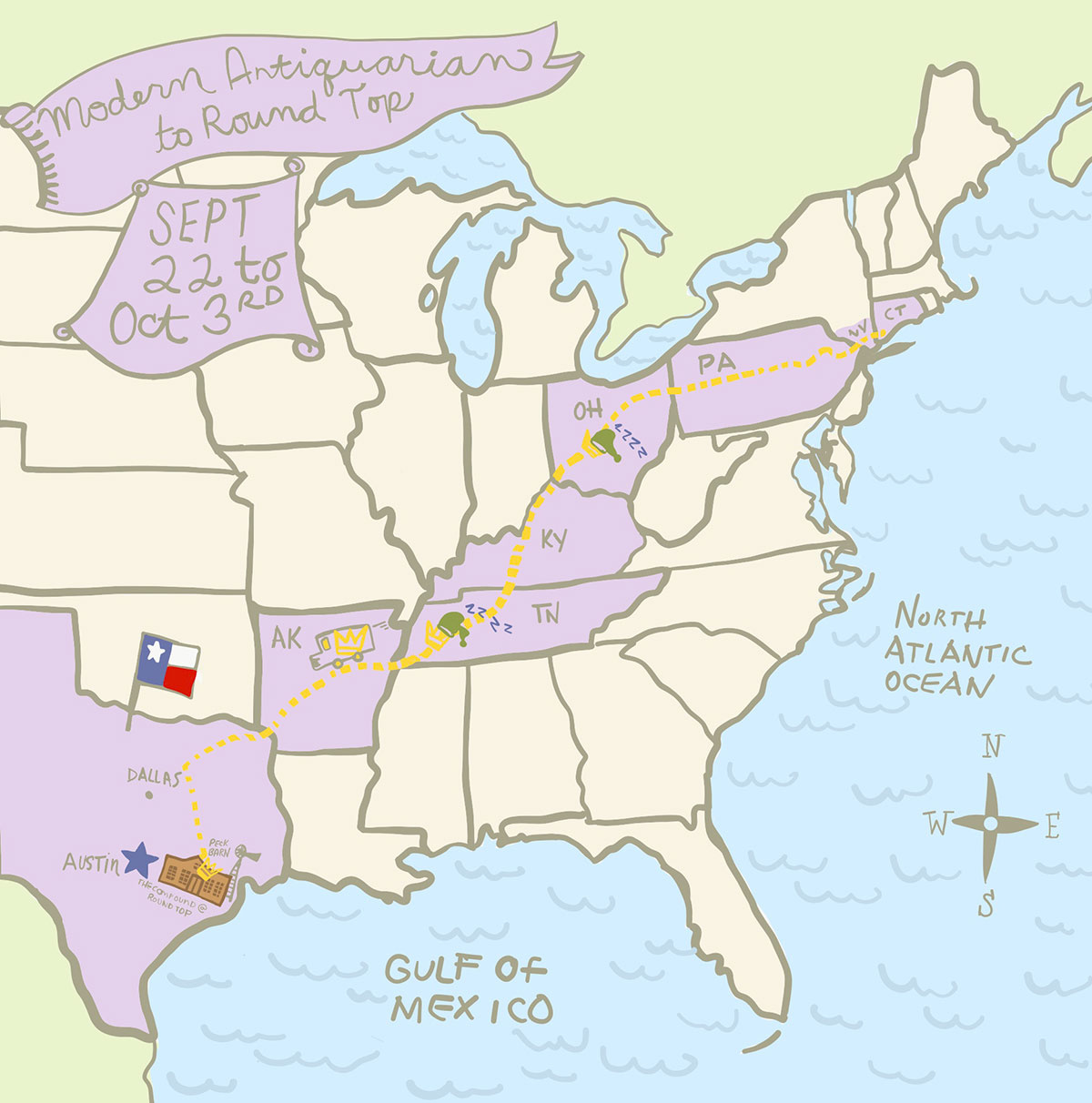 Hey all!
You might want to grab a nice cup of coffee to settle in for this post! We talk about our Road Trip, Round Top, The Designer Dream Spree at The Compound, and High Point Market Fall 2018! Here we go...
We have finally settled back into our routine in Connecticut. All of our travel within the USA for the year of 2018 is complete! We visited both Round Top Texas and High Point North Carolina during September and October and wow, both trips were entirely successful, exciting and worth the journey! If you follow us on Instagram at all you may have seen some of our escapades but we wanted to bring all the highlights together here, on the blog, for you guys!
The first part of this epic trip was from South Salem NY to Columbus Ohio! We started our drive on a Monday morning as two girls who had never driven a Ford Transit more than a mile. By the end of the day we had each put on a little over 300 miles each! Quite honestly, the drive went off without a hitch at all! We drove 3 full days;
Day 1 - South Salem NY to Columbus OH
Day 2 - Columbus OH to Little Rock AK
Day 3 - Little Rock AK to Round Top TX
You can check out the highlights from our road trip in both our IGTV video and our Instagram Highlights!
The Fall 2018 Show at The Compound Round Top was our THIRD show at Round Top. While to many (read, everyone) we are definitely still the new kids on the block. We do feel like we've started to make some effective changes in our approach to styling the booth, selling in a show setting and moving to Texas for 3 weeks! It is quite hard to describe the community we have been welcomed into down at the show but all we can say is that its a home away from home.
While our trips to Round Top are always business endeavors, we are so lucky to have such a wealth of intelligent, caring and passionate friends we are able to connect with through participating in the show at The Compound Round Top. We feel as though we are back with our people when we return to The Compound twice yearly for our show. From each vendor on site, to Maribel who helps maintain the grounds, to lovely Carrie at Picnic on the Green, we have a friend at every turn and a combined passion to maintain a fabulous show for the two weeks it runs!
The highlight of the show for us was absolutely when Thom Filicia picked our English slipper chairs to be featured in his vignette at the Designer Dream Spree hosted by Julie Dodson! This was the second Designer Dream Spree hosted at The Compound and boy was it incredible! Carolyn Englefield of Veranda Magazine moderated the conversation between Susan Ferrier, Jeffrey Bilhuber, Michelle Nussbaumer, and Thom Filicia. Each designer had the opportunity to browse Market Hill, The Arbors, The Compound and a few other venues before designing their own vignette.
Thom chose our slipper chairs for his! We were featured in a stunning vignette with a lot of our favorite dealers at The Compound, including; Adele Sypesteyn, Reworks ATX, Francois and Co, Amelia Tarbet, and Nomad's Loom. While were going to direct you to our video for the highlights of Thom's discussion of our chair, what he loved about the piece was exactly why we made it!
We had found the Indian wall tapestries on our first stop last March while shopping in London, we bought them because we loved the textures and colors and figured we could find someway to utilize their beauty! That afternoon after a large spot of tea we made our way into a few ahem, dingier, venues and found what we had been looking for! The shells of a pair of English slipper chairs with a beautifully scrolled back. We snatched them up and began thinking about the design execution. Fast forward about 6 months and we have these beauties from that small idea back in London! Thom notes that the juxtaposition of the two eras and styles of decor are what really bring this piece to life! Antiques can be unapproachable but our goal is to show you that they really are! They can absolutely fit into your world, in your way, on your terms!
After the show at The Compound, as well as a three day journey home, we had a bit of downtime before we hit the road again. This time? High Point North Carolina for the Furniture Market! We arrived on Saturday afternoon and went in with absolutely zero plans! The main reason we attended Market this fall was to support our good friend Toma Clark Haines and the launch of her collection of The Antiques Diva & Co x Aidan Gray collection. That was Sunday morning, so we had some time to kill!
We shot out a few texts, found some of our people and made our way to our first event! A book signing with Ray Booth Design and Kathryn Scott Designs  hosted in the Antique and Design Center at Market Suites, moderated by Amanda Kinney. It was fabulous to have both a New York Designer and a more classically Southern Designer together, answering questions from the audience about how they incorporate antiques into a clients home. Both of their new books are stunning, absolutely worth taking a peek!
The following morning was the release of Toma's Collection with Aidan Gray. We arrived just in time to see our gorgeous friend before the crowds arrived. Not only is the collection absolutely stunning, but it is expertly crafted by the team at Aidan Gray making this a collaboration made in heaven! There is stunning detail through the honoring of methods of reproduction in these pieces all while introducing bright colors in leather and accents in Lucite! This collection is a knockout and we spent our entire time drooling over each different piece.
That evening we met up with many of the same people at the Architectural Digest Party. We were lucky enough to snag some invites and off we were to a secluded neighborhood in High Point NC. We really weren't sure where we were headed but as soon as we pulled up we knew we were there! A stunning white home with very Mediterranean inspired architecture stood before us. A wine bar accompanied the guest list at the front door. It was all very posh, but once we stepped inside we understood why we were there! We felt as though we had stepped onto one of the glossy pages of AD and magically appeared in a perfectly manicured magazine spread. The entire party enjoyed mingling but also exploring this magnificent space! What a night to remember! 
We really used our time at Market this fall to get to know designers, as well as other antique dealers, who are working hard to incorporate antiques into the decorative arts on a daily basis. We really enjoyed being right at the center of our industry again. Despite being out of our brick and mortar location, we really think its worthwhile for everyone in our industry to head down at least once a year to check in and see how things are shifting in the design world. 
Well, if you made it to the end, Thank you! We've been up to a lot over the last few months and really hadn't been able to share the fun details with you all! Stay tuned for my review of the TEFAF Fall 2018 Show at Park Avenue Armory next week!
xoxo
Kelly