Login
Log in if you have an account
Register
Having an account with us will allow you to check out faster in the future, store multiple addresses, view and track your orders in your account, and more.
Create an account
Kips Bay Showhouse
14 May 2019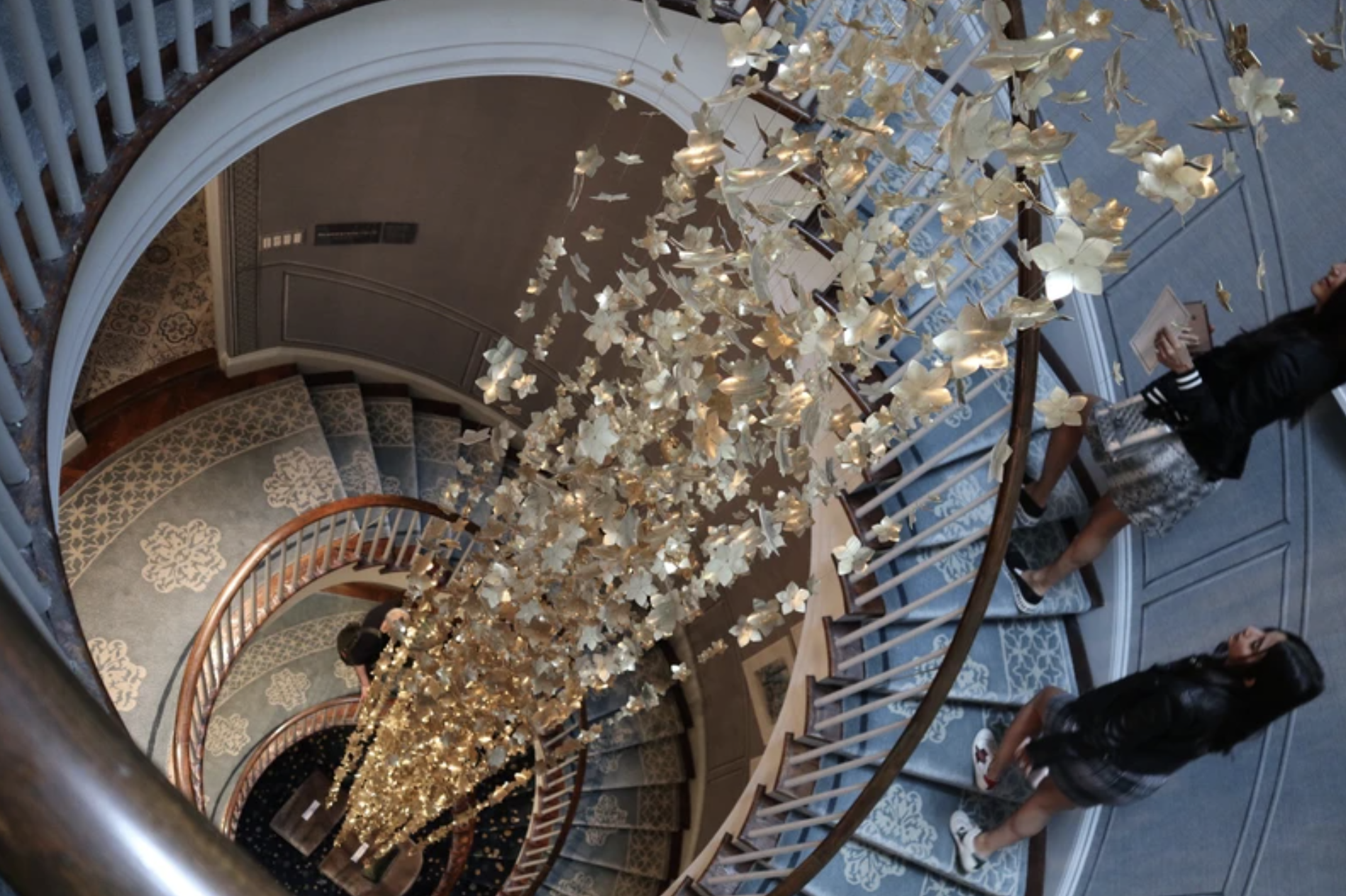 Hello Everyone,
The Kips Bay Showhouse this year is truly marvelous!
Margaret and I have been catching glimpses of it all over social media and all the different Home Decor mags like AD and House beautiful were writing all about the Showhouse—we had to get there! We put it on the calendar, and headed there on May 8th.
Upon arrival, we were immediately enthralled. You buy your ticket in a small entryway, it's the smallest space in the entire home, tricking you before you enter the real deal... You then encounter a fabulous spiral staircase, four floors tall, painted a deep navy blue, covered with gilded accents and oyster shells. All leading you up to the four floors above. It behaves as an ethereal path that really paves a direct path to the rest of the rooms in the home. We hope to give you an idea of the creative scope that these Designers had when creating these spaces.
A lot of the designers had before pictures of the spaces they had renovated because of the disarray the home had been found in. You can find these on the Gallery section of the Kips Bay Showhouse Website. They really show the stark contrast between the short month long transformations that these rooms went through.
Margaret's favorite room was "A Room of One's Own" by Eve Robinson Associates. The space is designed with the idea of Virginia Woolf's A Room of One's Own in mind. upon entering you're faced with a feminine, artistic space, inviting you to stay. Maybe have a drink or read for a while. The room itself is entrancing but the fine details throughout are what made it stick out in Margaret's mind. Two of her favorite aspects?
The bulky fireplace was resurfaced in glass and finished with a fine gilding... in the place of a fire is a color coordinated bar, perfect for a lady sanctuary.
The texture throughout the space is what really left a mark for Margaret though, she loves layers of mohair, velvet, glass, marble, artwork and nature. Robinson certainly delivered on all counts, making it a true knockout in Margaret's eyes.
Kelly's favorite room was absolutely Young Huh's Loft. Her space is on the same floor as Robert Passal's and it really is much brighter and over the top to Passal's space, they still harmonize. Huh's room is wallpapered in a bright, bold, multicolored jungle print. This strong choice is balanced out with antique frames reupholstered in pink velvet—a color ever present in the entire Showhouse. Such as Corey Damen Jenkins study.
There is plenty of space in Huh's studio for lounging and entertaining and as you round the corner, a kitchen, pantry and closet are revealed behind Bubble Gum Pink French doors.
Beyond this is a wide farmhouse or artists sink with a small step up to a black and white checkered bathroom with toilet and all— even three shower heads. This is the IDEAL city loft, and I am so here for it. I'd buy it from top to bottom :).
Our personal favorite was Robert Passal's space. It was on the fifth floor, up a separate staircase and when you reach the top of those stairs the first thing you spot is the inviting kidney shaped couch in Passal's room.
He had candles burning and you just wanted to settle in and watch the vintage films he had streaming on the mirrored TV within the fireplace mantle. Not one detail was spared and its palpable that this room was taken to another level with the work that Passal's team put into executing his vision.
We do not want to spoil the tour— you really should plan a trip in to see the home before it closes on May 30th— so just a few highlights is what we can share for now :). 
Thanks for reading everyone! See you next week...
Kelly & Margaret